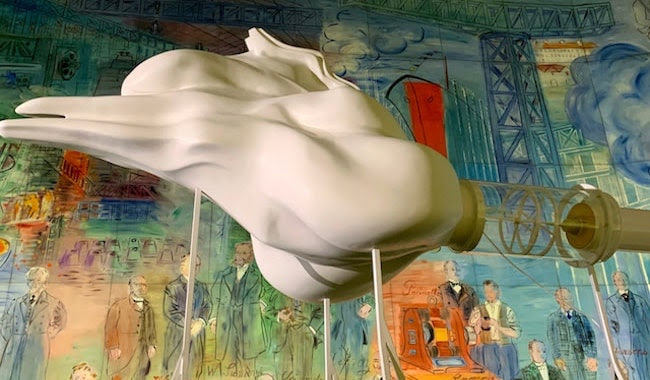 Facebook | Twitter | Instagram | Website
View this email in your browser

Dear Bonjour Paris readers,
The only thing better than walking in Paris is walking in Paris without noisy cars and motos. Luckily for us, the city will be staging its sixth « Car-Free Day » this Sunday, September 27th. The central arrondissements will be off limits to cars, along with the Champs-Élysées. When it's clogged with traffic, it's often difficult to see why it's called « la plus belle avenue du monde, » but when you walk down the middle of the Champs-Élysées, feeling the stones under your shoes, admiring the Arc de Triomphe looming in the distance, and the wide open skies above, with nary a voiture in sight… It's something else!   

We hope you enjoy this week's newsletter. As always, thanks for reading and sharing your thoughts. For those who have purchased a subscription to support Bonjour Paris, thank you very much! If you haven't done so, there's still time—head over to the subscription page here. Questions, comments? Feel free to send us a note at the following address: editor@bonjourparis.com. 

— Mary Winston Nicklin, Editor


16th Arrondissement, Sleepy No More
Over the last three years, the 16ème—the city's largest arrondissement, seen as quiet, genteel and residential—has undergone a radical transformation. A long-term resident shares her favorite addresses in this vibrant area of western Paris. More.


The French Open
The Roland Garros tennis tournament, or French Open, was postponed because of the pandemic. It's now taking place in autumn for the very first time. More.

An Update from the Paris Cook Club
In this time of pandemic, the Paris Cook Club continues to commune through cooking virtually. A cook club is a fun and useful way to help pass your time in confinement. More.





Auteuil: A Tranquil Village in the City
Not generally frequented by tourists, this tranquil and refined haven is still off the beaten circuits. A look at this pleasing village by the River Seine. More.

WTF?! What the French by Olivier Magny
An essential book about the fascinating intricacies of French culture, society, psychology and habits—with the wonderful advantage of being written by a Frenchman who has an impressive command of the English language. More.

Louise Colet: Poetry in a Time of Dislocation
Although Colet was an admirable poet in her own right, supporting herself through her writing, she is best known for her intense eight-year love affair with Gustave Flaubert. More.

For Sale: Unique Artist's Apartment in the Marais
This apartment brings new meaning to "one of a kind". Discreetly located in the heart of the Marais district, on a 16th century plant-filled courtyard, every aspect of this apartment is custom-made. More.



Vegan Food Festival Heads to Paris Park
Smmmile Vegan & Pop Festival served up a platter of plant-based cooking with a side of musical entertainment in Paris's Parc de la Villette. More.