The Alliance Française is a non-profit organization (501 C3) that as many small businesses is suffering from the COVID situation. This is an opportunity to support us while treating your friends or yourself with a typical French product. Thanks to Vero France in Capitola, we are able to make you this offer.
No shipping of the item, but various pick up points on the curb:
Alliance Française in Los Gatos – San Jose South – Sunnyvale. We will send you an email to arrange a date and time and give you the exact address.
Mountain View farmer market – Frenchery booth Sunday July 25th
If you are not able to come to one of this pick up points but are interested with this purchase, please contact: catherine.plottier@afscv.org
Details of the product:
Practicality and style come together beautifully with these handmade French market baskets and bags. Embody French countryside elegance as you go out to the market, the beach, or simply around town carrying one of these lovely French bags. Made from the highest quality wicker and leather and hand woven to perfection, these bags will never fail to hold all your belongings and dazzle those around you. As each basket is handmade, sizes may vary slightly. Woven with Moroccan materials in France.
The Rozzo Natural French Market Basket with short leather handles. It measures 8.5″ wide, 18″ long, and 13″ tall.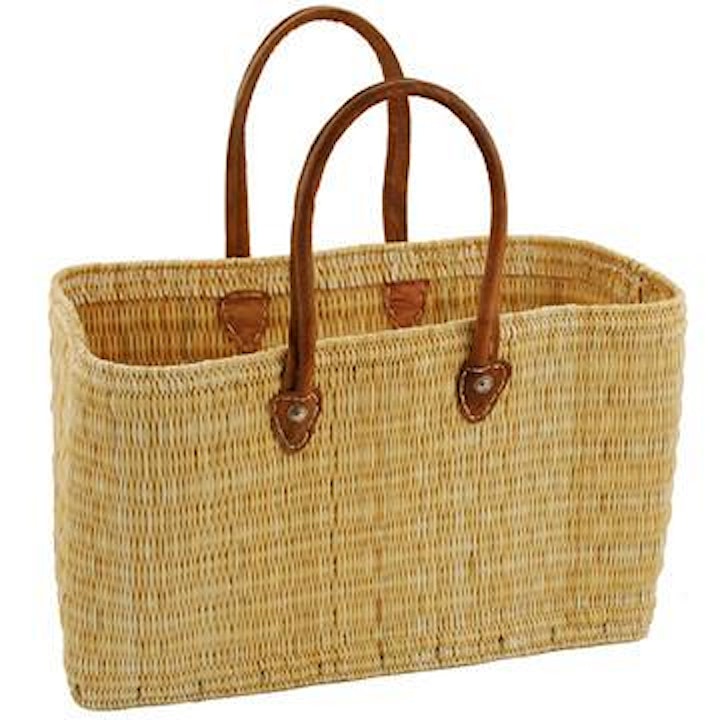 Date And Time
Thu, Jul 23, 2020, 6:00 PM PDT
Location
Contact Us at Events@afscv.org